Вісфатин і резистин: роль у нормі та при патології
Ключові слова:
вісфатин, резистин, ожиріння, цукровий діабет, серцево-судинні захворювання, вагітність, новонароджені
Анотація
Жирова тканина є ендокринним органом, який секретує численні нейроендокринні та периферичні пептиди, відомі як адипокіни. Проведено аналіз основних наукових праць, опублікованих з 2002 р. Незважаючи на те, що роль адипокінів залишається спірною, переконливо доведено їх участь в обміні речовин, запаленні та функціонуванні ендокринної системи. Вісфатин є ендокринним, автокринним і паракринним пептидом з багатьма функціями (посилення клітинної проліферації, біосинтез нікотинаміду, гіпоглікемічний ефект тощо). Резистин ‒ пептидний гормон, спочатку виявлений у мишей як чинник, який індукує резистентність до інсуліну. Наведено систематизовані дані щодо публікацій, присвячених вивченню ролі поліморфізму гена вісфатину. Висвітлено молекулярні та ендокринні механізми вісфатину та резистину, їх внесок у розвиток цукрового діабету, інсулінорезистентності, ендотеліальної дисфункції, серцево-судинних захворювань і атеросклерозу. На підставі аналізу літературних даних оцінено значення зазначених адипокінів як чинників формування перинатальних ускладнень при порушеннях вуглеводного обміну у вагітних. Установлено, що гіперглікемія, ожиріння, надмірна надбавка маси тіла під час гестації призводять до порушення синтезу та функції цитокінів, які аналізуються, в жировій тканині, лежать в основі розвитку макросомії плода. Показано, що вісфатин і резистин можна розглядати як біологічні маркери патологічних процесів, подальше вивчення яких дасть змогу розробити нові профілактичні стратегії та оптимізувати лікувальний процес.
Посилання
Vavylova TP, Pleten AP, Mykheev RK. Byolohycheskaia rol adypokynov kak markerov patolohycheskykh sostoianyi. Vopr pytanyia. 2017;86(2):5-13. DOI: 10.24411/0042-8833-2017-00028.
Verbovoi AF, Tsanava YA, Verbovaia NY, Halkyn RA. Rezystyn - marker serdechno-sosudystыkh zabolevanyi Ozhyrenye y metabolyzm. 2017;14(4):5-9. DOI: 10.14341/OMET201745-9.
Kosыhyna AV, Sosunov VV, Peterkova VA, Dedov YY. Uroven vysfatyna sыvorotky krovy y эkspressyia hena vysfatyna (PBEF1) v podkozhnoi y vystseralnoi zhyrovoi tkany u detei. Ozhyrenye y metabolyzm. 2010;7(4):20-23.
Mylovanov AP, Sydorova YS, Solonytsыn AN, Borovkova EY. Ymmunohystokhymycheskaia otsenka raspredelenyia faktora rosta эndotelyia sosudov v platsente, v platsentarnom rusle pry normalnoi beremennosty y u zhenshchyn s preэklampsyei. Arkh Patol 2008. 70(3):12-15.
Shpakov AO. Vysfatyn y eho rol v rehuliatsyy reproduktyvnoi systemы. Transliatsyonnaiamedytsyna. 2019;6(2):25-36. DOI: http://doi.org/10.18705/2311-4495-2019-6-2-25-36.
Al-Hamshary AH, El-Shaaer OS, Soliman DR, et al. Evaluation of serum resistin in children with chronic renal failure undergoing hemodialysis. Electronic Physician. - 2016;8(7):2595-2601. doi: 10.19082/2595.
AL-Suhaimi E.A., Shehzad A. Leptin, resistin and visfatin: the missing link between endocrine metabolic disorders and immunity. Eur. J. Med. Res. - 2013;18:12. doi: org/10.1186/2047-783X-18-12.
Bailey SD, Loredo-Osti JC, Lepage P, et al. Common polymorphisms in the promoter of the visfatin gene (PBEF1) influence plasma insulin levels in a French-Canadian population. Diabetes. 2006;55,10:2896-2902. doi:10.2337/db06-0189.
Banihani SA, Abu-Alia KF, Khabour OF, Alzoubi KH. Association between resistin gene polymorphisms and atopic dermatitis. Biomolecules. 2018;8, 2:17. doi:10.3390/biom8020017.
Blakemore AI, Meyre D, Delplanque J, et al. A rare variant in the visfatin gene (NAMPT/PBEF1) is associated with protection from obesity. Obesity (Silver Spring). 2009;17(8):1549-1553. doi:10.1038/oby.2009.75.
Bottcher Y, Teupser D, Enigk B, et al. Genetic variation in the visfatin gene (PBEF1) and its relation to glucose metabolism and fat-depot-specific messenger ribonucleic acid expression in humans. J Clin Endocrinol Metab. 2006;91,N7:2725-2731. doi: org/10.1210/jc.2006-0149.
Brentano F, Schorr O, Ospelt C, et al. Pre-B cell colony-enhancing factor/visfatin, a new marker of inflammation in rheumatoid arthritis with proinflammatory and matrix-degrading activities. Arthritis Rheum. 2007;56(9):2829-2839. doi:10.1002/art.22833.
Burnett MS, Devaney JM, Adenika RJ. Cross-sectional associations of resistin, coronary heart disease, and insulin resistance. J Clin Endocrinol Metab. 2006;91(1):64-68. doi: 10.1210/jc.2005-1653.
Cekmez F, Canpolat FE, Cetinkaya M, et al. Diagnostic value of resistin and visfatin, in comparison with C-reactive protein, procalcitonin and interleukin-6 in neonatal sepsis. Eur. Cytokine Netw. 2011;22,N2:113-117. doi: 10.1684/ecn.2011.0283.
Ciresi A, Pizzolanti G, Leotta M et al. Resistin, visfatin, leptin and omentin are differently related to hormonal and metabolic parameters in growth hormone-deficient children. J Endocrinol Invest. 2016;39(9):1023-1030. doi: 10.1007/s40618-016-0475-z.
Dahl TB, Holm S, Aukrust P, Halvorsen B. Visfatin/NAMPT: a multifaceted molecule with diverse roles in physiology and pathophysiology. Annu Rev Nutr. 2012;32:229-243. doi: 10.1146/annurev-nutr-071811-150746.
Dogru T, Sonmez A, Tasci I, et al. Plasma visfatin levels in patients with newly diagnosed and untreated type 2 diabetes mellitus and impaired glucose tolerance. Diabetes Res Clin Pract. 2007;76,N 1:24-29. doi:10.1016/j.diabres.2006.07.031.
El Samahi MH, Ismail NA, Matter RM, et al. Study of visfatin level in type 1 diabetic children and adolescents. Open Access Maced. J Med Sci. 2017;5,N 3:299-304. doi:10.3889/oamjms.2017.065.
Elkabany ZA, Hamza RT, Ismail EAR, et al. Serum visfatin level as a noninvasive marker for nonalcoholic fatty liver disease in children and adolescents with obesity: relation to transient elastography with controlled attenuation parameter [published online ahead of print, 2019 Dec 9]. Eur J Gastroenterol Hepatol. 2019. 10.1097/MEG.0000000000001608. doi:10.1097/MEG.0000000000001608.
Farghaly HS, Metwalley KA, Ahmed FA et al. Visfatin level in children and adolescents with autoimmune thyroiditis. Ther Adv Endocrinol Metab. 2017;8,N 8:119-125. doi:10.1177/2042018817731073.
Fasshauer M, Blüher M, Stumvoll M et al. Differential regulation of visfatin and adiponectin in pregnancies with normal and abnormal placental function. Clin. Endocrinol. (Oxf). 2007;66 (3):434-439. doi.org/10.1111/j.1365-2265.2007.02751.x.
Friebe D, Löffler D, Schönberg M, et al. Impact of metabolic regulators on the expression of the obesity associated genes FTO and NAMPT in human preadipocytes and adipocytes. PLoS One. 2011;6,N. 6. e19526. doi:10.1371/journal.pone.0019526.
Giapros V, Vavva E, Siomou E. et al. Low-birth-weight, but not catch-up growth, correlates with insulin resistance and resistin level in SGA infants at 12 months. J. Matern. Fetal Neonatal Med. 2017;30(15):1771-1776. doi:10.1080/14767058.2016.1224838.
Giers K, Niemczyk S, Szamotulska K, et al. Visceral adipose tissue is associated with insulin resistance in hemodialyzed patients. Med Sci Monit. 2015;21:557-562. doi:10.12659/MSM.892078.
Harrington TA, Thomas EL, Frost G et al. Distribution of adipose tissue in the newborn. Pediatr Res. 2004;55(3):437-441. DOI: 10.1203/01.PDR.0000111202.29433.2D.
Himani K, Vani G, Mishra S, et al. Association of serum Interleukin-10, omentin-1 and visfatin concentration with metabolic risk factors in obese children. Diabetes Metab. Syndr. 2019;13,N 3:2069-2074. doi:10.1016/j.dsx.2019.01.052.
Jamurtas AZ, Stavropoulos-Kalinoglou A, Koutsias S, et al. Adiponectin, resistin, and visfatin in childhood obesity and exercise. Pediatr Exerc Sci. 2015;27,N 4:454-462. doi: 10.1123/pes.2014-0072.
Khorrami-Nezhad L, Mirzaei K, Maghbooli Z, Keshavarz S. Dietary fat intake associated with bone mineral density among Visfatin genotype in obese people. British J Nutrition. 2018;119:3-11. doi:10.1017/S000711451700304X.
Kim SC, Park MJ, Joo BS et al. Decreased expressions of vascular endothelial growth factor and visfatin in the placental bed of pregnancies complicated by preeclampsia. J Obstet. Gynaecol. Res. 2012;38(4):665-673 doi: 10.1111/j.1447-0756.2011.01773.x.
Körner A, Böttcher Y, Enigk B, et al. Effects of genetic variation in the visfatin gene (PBEF1) on obesity, glucose metabolism, and blood pressure in children. Metabolism. 2007;56,N 6:772-777. doi:10.1016/j.metabol.2007.01.009.
Lee JН, Chan JL, Yiannakouris N et al. Circulating resistin levels are not associated with obesity or insulin resistance in humans and are not regulated by fasting or leptin administration: cross-sectional and interventional studies in normal, insulin-resistant, and diabetic subjects. J Clin Endocrinol Metab. 2003;88:4848-4856. doi:10.1210/jc.2003-030519.
Marseglia L, Manti S, D'Angelo G., et al. The role of visfatin in pregnancy, complications and procreation. J Pediatr Biochem. 2015;05(01):002-007. doi: 10.1055/s-0035-1554783.
Mazaki-Tovi S, Romero R, Kusanovic JP et al. Maternal visfatin concentration in normal pregnancy. J Perinat Med. 2009;37(3):206-217. doi:10.1515/JPM.2009.054.
Megia A, Vendrell J, Gutierrez C, et al. Insulin sensitivity and resistin levels in gestational diabetes mellitus and after parturition. Eur J Endocrinol. 2008;158,N. 2:173-178. doi: 10.1530/EJE-07-0671.
Mól N, Zasada M, Tomasik P et al. Evaluation of irisin and visfatin levels in very low birth weight preterm newborns compared to full term newborns A prospective cohort study. PLoS ONE. 2018;13(9). e0204835. doi: org/10.1371/journal.pone.0204835.
Nurten E, Vogel M, Michael Kapellen T, et al. Omentin-1 and NAMPT serum concentrations are higher and CK-18 levels are lower in children and adolescents with type 1 diabetes when compared to healthy age, sex and BMI matched controls. J Pediatr Endocrinol Metab. 2018;31, N 9:959- 969. doi:10.1515/jpem-2018-0353.
Ooi DSQ, Ong SG, Heng CK, et al. In-vitro function of upstream visfatin polymorphisms that are associated with adverse cardiometabolic parameters in obese children. BMC Genomics. 2016;17:974. doi: org/10.1186/s12864-016-3315-9.
Ort T, Arjona AA, MacDougall JR, et al. Recombinant human FIZZ3/resistin stimulates lipolysis in cultured human adipocytes, mouse adipose explants, and normal mice. Endocrinology. 2005;146:2200-2209. doi:10.1210/en.2004-1421.
Pabisek-Miernik J, Kościelniak-Merak B, Sporadyk M, Tomasik PJ. Ghrelin, visfatin and irisin in children with short bowel syndrome. Folia Med Cracov. 2019;59, N 3:5-14. doi:10.24425/fmc.2019.131131.
Pavlova T, Novak J, Bienertova-Vasku J. The role of visfatin (PBEF/Nampt) in pregnancy complications. J Reprod Immunol. 2015;112:102-110. doi: 10.1016/j.jri.2015.09.004.
Prosperi M, Guiducci L, Peroni DG, et al. Inflammatory biomarkers are correlated with some forms of regressive autism spectrum disorder. Brain Sci. 2019;9, N. 12:366. doi:10.3390/brainsci9120366.
Romacho T, Sánchez-Ferrer CF, Peiró C. Visfatin/Nampt: an adipokine with cardiovascular impact. Mediators Inflamm. 2013;2013. - ID 946427. doi:10.1155/2013/946427.
Saboktakin L, Bilan N, Behbahan AG, Poorebrahim S. Relationship between resistin levels and sepsis among children under 12 years of age: A Case Control Study. Front. Pediatr. 2019;7:355. doi: 10.3389/fped.2019.00355.
Saddi-Rosa P, Oliveira CS, Giuffrida FM, Reis AF. Visfatin, glucose metabolism and vascular disease: a review of evidence. Diabetol. Metab. Syndr. 2010;2:21. doi:10.1186/1758-5996-2-21.
Solinas G, Karin M. JNK1 and IKK beta: molecular links between obesity and metabolic dysfunction. FASEB J. 2010;24,N 8:2596-2611. doi:10.1096/fj.09-151340.
Sonoli SS, Shivprasad S, Prasad CV, et al. Visfatin - a review. Eur Rev Med Pharmacol Sci. 2011;15, N 1:9-14.
Stephens JM, Vidal-Puig AJ. An update on visfatin/pre-B cell colony-enhancing factor, an ubiquitously expressed, illusive cytokine that is regulated in obesity. Current Opinion in Lipidology. - 2006;17, N 2:128-131 doi: 10.1097/01.mol.0000217893.77746.4b.
Takebayashi K, Suetsugu M, Wakabayashi S, et al. Association between plasma visfatin and vascular endothelial function in patients with type 2 diabetes mellitus. Metabolism. 2007;56,N 4:451-458. doi:10.1016/j.metabol.2006.12.001.
Tilg H, Moschen AR. Role of adiponectin and PBEF/visfatin as regulators of inflammation: involvement in obesity-associated diseases. Clin Sci (Lond). 2008;114:275-288. 10.1042/CS20070196.
Tokunaga A, Miura A, Okauchi Y, et al. The -1535 promoter variant of the visfatin gene is associated with serum triglyceride and HDL-cholesterol levels in Japanese subjects. Endocr J. 2008;55,N 1:205-212. doi:10.1507/endocrj.k07e-039.
Wnuk A, Stangret A, Wątroba M, et al. Can adipokine visfatin be a novel marker of pregnancy‐related disorders in women with obesity? Obesity Reviews. 2020;21. - e13022. doi: org/10.1111/obr.13022.
Yan JJ, Tang NP, Tang JJ et al. Genetic variant in visfatin gene promoter is associated with decreased risk of coronary artery disease in a Chinese population. Clin Chim Acta. 2010;411 (1-2):26-30. doi:10.1016/j.cca.2009.09.033.
Yeung EH, Sundaram R, Xie Y, Lawrence DA. Newborn adipokines and early childhood growth. Pediatr. Obes. - 2018;13, N. 8:505-513. doi:10.1111/ijpo.12283.
Yin C, Hu W, Wang M et al. The role of the adipocytokines vaspin and visfatin in vascular endothelial function and insulin resistance in obese children. BMC Endocr Disord. 2019;19:127. https://doi.org/10.1186/s12902-019-0452-6.
Zhang YY, Gottardo L, Thompson R, et al. A visfatin promoter polymorphism is associated with low-grade inflammation and type 2 diabetes. Obesity (Silver Spring). 2006;14 (12):2119-2126. doi:10.1038/oby.2006.247.
Zurita-Cruz JN, Medina-Bravo P, Manuel-Apolinar L, et al. Resistin levels are not associated with obesity in central precocious puberty. Peptides. 2018;109:9-13. doi: org/10.1016/j.peptides.2018.09.009.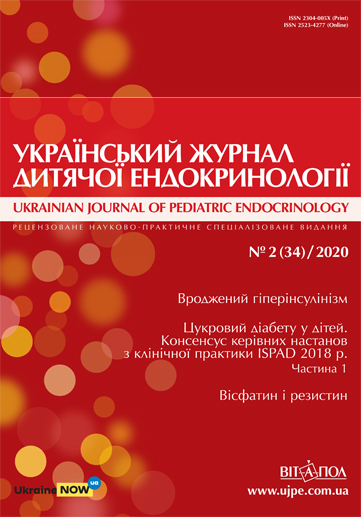 ##submission.downloads##