Роль генетичних та епігенетичних чинників у формуванні ожиріння і кардіометаболічних порушень у хлопчиків
Ключові слова:
хлопчики, ожиріння, кардіометаболічні порушення, генетичні та епігенетичні чинники
Анотація
Огляд літератури присвячено сучасним уявленням щодо генетичних та епігенетичних чинників формування ожиріння і супутніх ускладнень у хлопчиків. Чинниками ризику надлишкової маси тіла визначено препубертатний вік, чоловічу стать і міське середовище. Початкові ознаки метаболічних порушень виявляються вже в дитячому віці та частіше реєструються у дітей, котрі мають надлишкову масу тіла і обтяжену спадковість. Підвищення індексу маси тіла в пізньому пубертаті тісно пов'язано із серцево‑судинною смертністю (у молодих дорослих або в зрілому віці). Генетичними чинниками розвитку ожиріння є обтяжена спадковість щодо ожиріння, цукрового діабету 2 типу, гіпертонічної хвороби, наявність несприятливих генотипів, епігенетичними — характер харчування, рівень фізичної активності, метаболічні порушення у матері тощо. Заохочення до менш сидячої поведінки та вищого рівня фізичної активності може пом'якшити вплив алелей ризику на генетичну схильність щодо дитячого ожиріння. Виявлено, що зростання кількості тяжких форм ожиріння пов'язано зі збільшенням поширеності метаболічних та кардіоваскулярних чинників ризику, особливо серед хлопчиків і молодих чоловіків. Наявність ожиріння та його прогресування — незалежний чинник ризику розвитку кардіометаболічних порушень у хлопчиків. Важливу роль у профілактиці та лікуванні ожиріння в дитячому і підлітковому віці відводять формуванню свідомого ставлення до здоров'я. Значно поліпшить систему профілактики ожиріння в більш ранні вікові періоди (та дасть змогу запобігти маніфестації ускладнень у дорослому віці або відстрочити її) розробка індивідуальних програм з урахуванням наявності несприятливих генотипів та коригуванням епігеному.
Посилання
Zelinska NB, Rudenko NG, Krushinska ZG. Hvorobi endokrinnoyi sistemi v ditej Ukrayini u 2017 roci: pokazniki poshirenosti j zahvoryuvanosti ta yih dinamika. Ukrayinskij zhurnal dityachoyi endokrinologiyi [Ukrainian magazine of child's endocrinology]. 2018;2 : 5-15 [in Ukrainian].
Kovalova VI, Budreiko OA, Kosovtsova HV. Vyznachennia roli spadkovykh faktoriv ta nespryiatlyvykh chynnykiv perynatalnoho rozvytku u formuvanni ozhyrinnia u ditei ta pidlitkiv. Faktory eksperymentalnoi evoliutsii orhanizmiv. [Factors of experimental evolution of organisms]. 2015 : 16 : 201-5. http://nbuv.gov.ua/UJRN/feeo_2015_16_44 [in Ukrainian].
Kravchenko VP. Velyka masa dytyny pry narodzhenni. Prohnostychnyi analiz ryzykiv ozhyrinnia. Aktualni pytannia pediatrii, akusherstva ta hinekolohii [Current issues of pediatrics, obstetrics and gynecology]. 2018;1 : 12-4. doi 10.11603/24116-4944.2018.1.8142 [in Ukrainian].
Ohniev VA, Pomohaibo KH. Rizni aspekty formuvannia ozhyrinnia ta nadmirnoi masy tila u ditei ta pidlitkiv. Mizhnarodnyi medychnyi zhurnal [International Medical Journal]. 2017;4 : 92-6. http://www.imj.kh.ua/authors/1629/ognev_v_a [in Ukrainian].
Pankiv VI. Insulinorezystentnist yak kliuchovyi patofiziolohichnyi mekhanizm rozvytku metabolichnoho syndrome. Praktychna anhiolohiia [Practical angiology]. 2012;5-6 : 24-8. https://angiology.com.ua/ua/archive/2012/5-6 %2854 [in Ukrainian].
Sabadyshyn RO, Lukashuk VD, Babiak VI ta in. Laboratorna diahnostyka porushen vuhlevodnoho obminu do poiavy klinichnykh oznak ta naiavnist komponentiv metabolichnoho syndromu v ditei na riznykh stadiiakh ozhyrinnia. Visnyk medychnykh i biolohichnykh doslidzhen [Bulletin of Medical and Biological Research]. 2020;1 : 45-9. doi 10.11603/bmbr.2706-6290.2020.1.10909 [in Ukrainian].
Sorokman TV, Popeliuk NO, Ushakova KIu. Prohnostychni kryterii rozvytku metabolichnoho syndromu u ditei. Zdorove rebёnka [Child health]. 2016;2 (70):29-32. http://nbuv.gov.ua/UJRN/Zd_2016_2_6 [in Ukrainian].
Tolstikova OO, Aharkov SF. Suchasni uiavlennia pro metabolichnyi syndrom u ditei ta pidlitkiv. Likarska sprava [Medical business]. 2019;5-6 : 27-39. doi 10.31640/JVD.5-6.2019 (3) [in Ukrainian].
August GP, Caprio S, Fennoy I et al. Prevention and treatment of pediatric obesity: an endocrine society clinical practice guideline based on expert opinion. JCEM. 2008;93 (12):4576-4599. doi: 10.1210/jc.2007-2458.
Cauchi S, Stutzmann F, Cavalcanti-Proença C et al. Combined effects of MC4R and FTO common genetic variants on obesity in European general populations. J Mol Med (Berl). 2009;87(5):537-546. doi: 10.1007/s00109-009-0451-6.
Chirita-Emandi A, Barbu CG, Cinteza EE et al. Overweight and underweight prevalence trends in children from Romania — pooled analysis of cross-sectional studies between 2006 and 2015. Obes Facts. 2016;9:206-20. doi: 10.1159/000444173.
Dalgaard K, Landgraf K, Heyne S et al. Trim28 Haploinsufficiency triggers bi-stable epigenetic obesity. Cell. 2016;N 164 — P. 353-364. https:. doi.org/10.1016/j.cell.2015.12.025. (13).
Desai M, Jellyman JK, Ross MG. Epigenomics, gestational programming and risk of metabolic syndrome. Int. J. Obes (Lond). 2015;39:633-641. doi: 10.1038/ijo.2015.13. Epub 2015 Feb 2.
Fernandez-Twinn DS, Gascoin G, Musial B et al. Exercise rescues obese mothers' insulin sensitivity, placental hypoxia and male offspring insulin sensitivity. Sci. Rep. 2017;N 7. 44650. doi: 10.1038/srep44650.
Hall J, do Carmo J, da Silva A et al. Obesity-induced hypertension: interaction of neurohumoral and renal mechanisms. Circ Res. 2015;N 116:991-1006. doi: 10.1161/ CIRCRESAHA.116.305697.
Huang RC, Garratt ES, Pan H et al. Genome-wide methylation analysis identifies differentially methylated CpG loci associated with severe obesity in childhood. Epigenetics. 2015;N 10 (11):995-1005. doi: 10.1080/15592294.2015.1080411.
Juonala M, Magnussen CG, Berenson GS et al. Childhood adiposity, adult adiposity, and cardiovascular risk factors. N. Engl. J. Med.- — 2011. N 365 (20):1876-1885. doi: 10.1056/NEJMoa1010112.
Kilpeläinen TO, Qi L, Brage S et al. Physical activity attenuates the influence of FTO variants on obesity risk: a meta-analysis of 218,166 adults and 19,268 children. PLoS Med. 2011;N 8 (11). 1001116. doi: 10.1371.
Liu C, Mou S, Cai Y. FTO gene variant and risk of overweight and obesity among children and adolescents: a systematic review and meta-Analysis. PLoS One.- — 2013. N 8 (11). e82133. https:. doi.org/10.1371/journal.pone.0082133.
Locke АЕ, Kahali B, Berndt SI et al. Genetic studies оf body mass index yield new insights for obesity biology. Nature. 2015;518(7538):197-206. doi: 10.1038 / nature14177.
Loos RJ, Yeo GS. The bigger picture of FTO: the first GWAS — identified obesity gene. Nat. Rev. Endocrinol.- — 2014. N 10 (1):51-61. doi: 10.1038/nrendo.2013.227.
Magge SN, Goodman E, Armstrong SC et al. The metabolic syndrome in children and adolescents: shifting the focus to cardiometabolic risk factor clustering. Pediatrics. 2017;N 140 (2). e20171603. doi: 10.1542/peds.2017-1603.
Marciniak A, Patro-Małysza J, Kimber-Trojnar Ż et al. Fetal programming of the metabolic syndrome. Taiwan J. Obstet. Gynecol. 2017;N 56 (2):133-138. doi: 10.1016/j.tjog.2017.01.001.
Ng M, Fleming T, Robinson M et al. Global, regional, and national prevalence of overweight and obesity in children and adults during 1980-2013:a systematic analysis for the Global Burden of Disease Study 2013. Lancet. 2014;N 384:766-781. doi: 10.1016/S0140-6736 (14)60460-8.
Rahmouni K, Correia ML, Haynes WG et al. Obesity-associated hypertension: new insights into mechanisms. Hypertension. 2005;45(1):9-14. https:. www.ncbi.nlm.nih.gov.
Reinehr T, Wolters B, Knop C et al. Strong effect of pubertal status on metabolic health in obese chidren: a longitudinal study. J. Clin. Endocrinol. Metab.- — 2015. N 100 (1):301-308. https:. doi.org/10.1210/jc.2014-2674.
Reuter CP, Burgos MS, Bernhard JC et al. Association between overweight and obesity in schoolchildren with rs9939609 polymorphism (FTO) and family history for obesity. J. Pediatr.- — 2016. N 92 — P. 493-498. doi: 10.1016/j.jped.2015.11.005.
Rohde K, Keller M, la Cour Poulsen L et al. Genetics and epigenetics in obesity. Metabolism. 2019;N 92:37-50. doi: 10.1016/j.metabol.2018.10.007.
Rothstein M, Cai Y, Marchant GE. The ghost in our genes: legal and ethical implications of epigenetics. Health Matrix: Journal of Law-Medicine. 2009;19(1):2-37. https:. www.ncbi.nlm.nih.gov/pmc/articles/PMC3034450.
Skinner AC, Perrin EM, Moss LA et al. Cardiometabolic risks and severity of obesity in children and young adults. N. Engl. J. Med.- — 2015. N 373 (14):1307-1317. doi: 10.1056/NEJMoa1502821.
Twig G, Yaniv G, Levine H et al. Body-mass index in 2,3 milliom adolescents and cardiovascular death in adulthood. N. Engl. J. Med.- — 2016. N 374 (25):2430-2440. doi: 10.1056/NEJMoa1503840.
Upadhyaya B, Larsen T, Barwari S et al. Prenatal exposure to a maternal high-fat diet affects histone modification of cardiometabolic genes in newborn rats. Nutrients. 2017;N 9 (4). E407. doi: 10.3390/nu90404074.
Walley AJ, Asher JE, Froguel P. The genetic contribution to non-syndromic human obesity. Nat Rev Genetic. 2009;N 10:431-442. doi: 10.1038/nrg2594.
World Health Organization. Report of the commission on ending childhood obesity. Geneva: WHO; 2016. http://www.who.int/end-childhood-obesity/en/.
Worldwide trends in body-mass index, underweight, overweight, and obesity from 1975 to 2016:a pooled analysis of 2416 population-based measurement studies in 128.9 million children, adolescents, and adults. NCD Risk Factor Collaboration (NCD-RisC). Lancet. 2017;N 390:2627-2642. doi: 10.1016/S0140-6736 (17)32129-3.
Xi B, Wang C, Wu L et al. Influence of physical inactivity on associations between single nucleotide polymorphisms and genetic predisposition to childhood obesity. Am J Epidemiol. 2011;N 173:1256-1262. doi: 10.1093/aje/kwr008.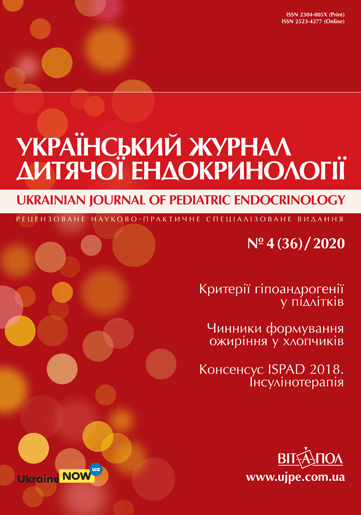 ##submission.downloads##